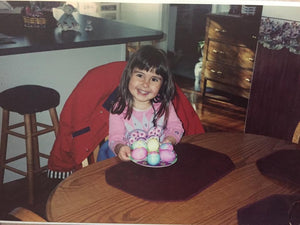 5 Tips for Working At Home
Hey BracketLifer's – It's Rachel back on the blog this week! As we finish yet another month, it's hard to believe that we have already made it through the first quarter of 2021! And just when we all thought things were starting to look up with this pandemic, we are yet again getting slammed with restrictions/closures (in Canada anyways). So, seeing as we are going to be staying at home for a bit longer, I thought I'd share a few quick tips on how to successfully work from home since I've been doing it for over a year now.
Since the very beginning of the pandemic in 2020, I've been working from home full-time – both in my day job and with BracketLife Brand. As someone who is known for being a 'social butterfly' sitting at home alone all day isn't necessarily my cup of tea. But … after a few months of working from home I've learned to love it! Here are a few tips that have worked well for me and might help you too:
1. Make a Schedule for Yourself
Having a schedule has been a game changer for me. When you think about working from home the first thing that comes to most people's minds is the idea that you can work whenever you want. And although that may be true – it can result in a lot less work getting done. You have to schedule out your day just like you did when you were going to work every day. Personally, I work 8:00 – 4:30 PM. So, I have scheduled my 8-hour workday between those hours with a lunch break at 12:00 – 1:00 PM and fill my evenings with personal and/or BracketLife Brand tasks. I can tell you that having a set lunch break makes all the difference in my day. My coworkers are aware that I am on lunch during this time, and it gives my body and mind a chance to get up from my desk, cook lunch and move around. It's a healthy break that makes the second half of your day SO much easier.
2. Get Ready Every Morning
Another thing I hear a lot of people talk about is the idea that you can work from home in your pajamas. Now, have I done it? Absolutely. Was it great? Of course. But when you are working from home every single day, it is important to get yourself into a routine and at least get out of your pajamas. At the beginning of my working from home journey, I think I got dressed maybe twice in the first couple of months home. The problem? Well for one personal hygiene, LOL. But also, you just feel tired 24/7. Being in your pajamas make you want to go lay on the couch or take a nap. The solution? Get yourself up at least 15-20 minutes before you start working. Shower, wash your face, brush your teeth, do your skincare routine and then put some sweatpants and a hoodie on. Getting ready every morning definitely doesn't mean the full glitz and glam – but at least enough to make you feel awake and ready to conquer the day.  
3. Make Time for Exercise
Sitting at a desk in front of a computer screen all day is so draining and so not good for you. And did I mention BORING?! I know I went from walking around the office all day, to barely getting in 1,000 steps in a day. After a while of not moving around I started to feel tired all of the time, fatigued, and even dizzy when I would get up quickly. Scheduling in even 30 minutes of exercise at the beginning or end of each day helped give me more energy and allows me to be more productive during the day.  
 4. Create a Comfy Workspace
When I first started working from home, this was the first piece of advice everyone gave me. I thought that working from home meant I could work in bed or on the couch, but I quickly realized that this wasn't practical. When you are in your house all day every day – your life starts to blur together. It's so important to create a workspace that is just for work … because if you don't, you'll never be able to shut off your work. I use our spare room as my office. It's filled with inspirational quotes on the wall, a comfy chair, a cozy blanket and my work laptop. When the clock hits 4:30 PM I clock out and shut the door to my office so I can switch out of work mode and into life mode. Just because you work from home, doesn't mean you need to work 24/7.
 5. Find a Way to Create Background Noise
If you are home alone all day while you work from home – silence can be deafening. After a week of working at home all day in silence, I thought I was going to lose my mind. I quickly realized that the answer to this problem was to play a good podcast, turn on the radio on or turn on the tv. As distracting as you might think this is, it actually helped increase my productivity and made me feel like I wasn't alone all day (because I hated the loneliness of it). If you are extraverted like me, I'd highly recommend playing something in the background to keep you company during the day.
Well, that's all I've got! I hope you found these quick tips helpful. Do you work from home? Let me know and share what has worked well for you.
Wishing everyone a great long weekend and Happy Easter! Catch you next-next week,
Rachel Ogilvie
---