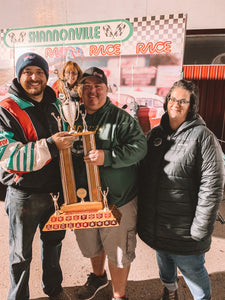 10th Annual Jim Parkhurst Memorial Race Recap
Hey everyone, it's Brandon back this week to reflect on what will be one of the most memorable race weekends of my life.
First and foremost I have to say thank you to all of the unbelievable people I have in my life who all came together to make this past weekend happen! Katie, Stacey and Jen for taking care of everything in the tower. Trevor and Becky for managing the lanes. Cheri for being our "runner" and our mobile PA system. Jason for making the best trophy in drag racing. Pat and Gary for keeping the track in great shape. Suzie for taking care of all of our crazy merchandise sales. And as always, Al and Sherry (Mom) for leading us through to the other side of this great event.
This weekend we had 160 entries in the race. Despite the cold October weather, we managed to successfully finish both races with no major issues or hiccups. We paid out over $30,000 in prize money. And we had a great time doing it.
I left absolutely everything I had out on the race track. Saturday I made it down to 12 cars before I fell victim to the eventual event winner by 0.001. Sunday I was feeling the rhythm as I rolled through to the round of 12, and this time with 2 entries still in the race. However, this didnt last long as I ended up losing 1 entry at 12 cars and the other entry in the following round of 6. Unfortunately, this meant that I was not able to get myself a "Jimmy". For those of you who don't know what a "Jimmy" is, it's a trophy that was created for the memorial race in honour of my grandpa, Jim. 
After the race was over, our racing banquet started. It's safe to say that I didnt leave empty handed. I was crowned the Super Pro Points Champion at Shannonville for the very first time and with that also came – the Larry Tandy Driver of the Year Award. My season long goal was to win the points championship this season, and I am very proud to have been able to accomplish that goal.
For me, this track (as you all know) has been my home track for the last 18 years of my racing career. And if this truly is the end of the SMP Drags program, then I can honestly tell you, I couldn't have asked for a better send off. The support we had from family and friends was amazing. The competition was as tough as anywhere. And I know for a fact (100%) that my grandfather would have loved every second of it and that we honoured him well.
A final thought as I pulled out of the track today one last time to read "Birthplace of Champions" as you pass the exit sign onto the highway. Shannonville will always be my home track, it will always be the place where I fell in love with drag racing, it will always be where I grew up and became who I am today, it is where I met the closest racing family that I know. If we come back to Shannonville again one day or not it will never stop being the birthplace of this champion.
See you next time, 
Brandon Barker
---
4 comments