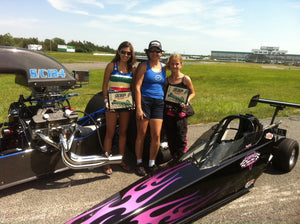 10 Things You Don't Know About Me (Rachel)
Hey BracketLifer's – It's Rachel! Happy Wednesday! This week, I've decided to piggy-back off of Brandon's topic last week and share ten things you might not know about me. We've been seeing a lot of new faces join our community lately so we thought this topic would be a great way to connect with our ever-growing community!  
10 Things You Might Not Know About Me:
My First Win Was at Shannonville Motorsports Park
It was the last race of the season in my rookie year of junior dragster. I was 13 years old at the time and I was thrilled to have finally made it to the winner's circle! My sister had won the first race she ever competed in that year, and I was so mad she won her first race before me …
I LOVE Working from Home
Almost a year ago today, my coworkers and I were all sent to work from home due to the pandemic. At the time, I wasn't sure how I was going to adjust but it turns out that I absolutely love it! Not only do I get to sleep in almost 2 hours more each morning, but I get the entire house to myself, and get to cook a lot tastier lunches for Brandon and I.
I Have A Deep Obsession for Both Chocolate Chip Cookies and Donuts
If you have spent any time with me then you'd know I love all things chocolate and sugar. As much as I try to stray away from sweets, I'll never say no to a chocolate chip cookie or a trip to the donut shop! I have always loved the convenience of the Tim Hortons Drive-Thru when I am in need of a good donut. My dream business would be to open a drive-thru donut shop (with fancy ice cream sundaes in the summer).
I Went to An All-Women's University
When I made the decision to go to university I was back and forth on which university to attend. I had no plans to attend an all-women's university and it was never something I even had on my radar. Through a fluke coincidence of driving by the campus one day– I ended up at Brescia University College – and it ultimately changed the entire course of my life. During my time at Brescia, I switched my program 3 times and learnt more about myself, my leadership abilities, and what career path I ultimately wanted to take. Let's just say I started out wanting to be a dietitian, then a business owner in the food industry, then a lawyer, then a marketing specialist, and then back to being a business owner/ entrepreneur.  
I've Lived In 3 Different Cities Over the Last 6 Years
I grew up just outside of Ottawa (Smiths Falls) and lived there my entire life up until I graduated high school in 2015. When I graduated, I was 17 years old and made the decision to move 6 hours away from home to go to university in London, ON. I spent 4 years living in London, ON while I went to school, before deciding to move to Belleville, ON after graduation in 2019.
My Sister and I Never Used to Get Along; Now She's My Maid of Honour
Growing up, my sister and I NEVER used to get along. I am the older sister and spent most of my life making her life hell, LOL! I loved to steal her toys as a kid, and always made mean jokes about her blonde hair (my entire family is brunette). I wanted to be a businesswoman and make six figures, while she wanted to move to California to live on the beach – we were complete opposites. But once I moved away to university, our relationship did a complete 180. Now she is my best friend and we do almost everything together. As we grew up (and continue to grow up) we realized how alike we actually are. Now she's my go-to person for advice and is the Maid of Honour in my wedding this year.
When I Was A Little Girl, I Wanted to Be an Astronaut
When I was a little little girl (like between the ages of 5-7) I was dead set on becoming an Astronaut. One of my earliest memories as a kid was the day I traded my treasure box prize at school with my classmate who had a poster of Neil Armstrong (the first person to walk on the moon). After hanging that picture on the wall in my room, I told my parents how much I wanted to be an Astronaut. Well … being the great parents that mine were ,they took me to Kennedy Space Centre in Florida that year. I was over the moon excited …UNTIL I met an Astronaut that day who told me Astronauts miss Christmas because of all the cool astronaut things they do. Let's just say after learning this news, I never spoke of being an Astronaut again, LOL! Christmas apparently meant way to much to me as a kid!
I Have Been to Florida Every Year of My Life (Until COVID-19 Hit)
One of my favourite family traditions growing up has been that our family drives to Florida every year for 1-2 weeks during March Break/Reading Week. My first trip was when I was 6 months old, and I've been every year since until last year when the pandemic hit. Going to Florida with my family brought so much fun and excitement as a kid and those trips include some of my favourite memories with my family. I hope we can get back to this tradition soon!
I'm A Dragster Girl Through and Through
From the day I sat in my first junior dragster (probably even before this) I knew I wanted to drive a dragster. People always laugh when I say this, but I have never had any interest in driving a door car. I love everything about the idea of a dragster and think it is one of the coolest things to drive. Guranteed you'll see Brandon behind the wheel of a door car one day, but I'll forever be behind the wheel of a dragster.
I Still Haven't Learned How to Drive Standard Vehicle Yet
One thing I have always wanted to learn but never got around to actually learning (yet!) is how to drive a standard vehicle. So, if anyone ever wants to teach me how to drive standard, you know where to find me!
Well, I hope you enjoyed this week's blog post and you learned something new about me.
Catch you next-next week,
 Rachel Ogilvie
---