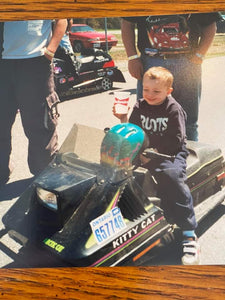 10 Things You Don't Know About Me (Brandon)
Hey guys, welcome back to the blog. Brandon back again this week and I am sharing some facts about me you might not already know. Now some of our long time followers and friends will know a few of these but it will be a way for all of our new followers to get to know me better!
I began racing at 6 years old. I drove a junior dragster from the age of 6 until I was 15 and then moved into Super Pro.
I won my first race at the age of 10. It took me 4 years before I was finally able to seal the deal. It was in North Bay, Ontario at King of the Hill Dragway during a "Show Me The Money Tour" race. It was a trip I went on with my Dad, Grandpa, and Uncle Steve. I won over Tiffany Way, and former Pro Mod driver ,Joe Boniferro, promised me $20 for every time I won a race. I later made him regret that decision as I got on a bit of a hot streak after that.
My first Super Pro win was when I was 17 at Toronto Motorsports Park. It was during a DSE race in their Frantic 14 class over Matt Costabile. That following Monday I had my wisdom teeth removed!
My dream is to own a door car one day. Right now I am not very picky in terms of the type of door car I'd like to have. The ideal plan would be to have something I could run Super Pro & Semi Pro in. I really want to sharpen my skills as a foot brake racer.
I have always been fascinated with the business of drag racing and learning about how the industry works. How does drag racing encompass both a Top Fuel Dragster and a Street Car plus everything in between.
I love cooking and trying to create new things. Rachel might not think all of my experiments and recipes are the best but she lets me keep trying new things.
I am a huge fan of live concerts. I mainly attend hard rock concerts and I love it. I cant wait to get back to live shows.
I think storage units would be a great business to own. If I could get around the large start up costs I would have a huge lot of storage units.
My favorite restaurant to eat at is Matty O'Shea's in Smiths Falls. Hands down if you ever have the pleasure of visiting Matty's, you need to try "Matty's Favourite Burger" with bacon, cheese, jalapeno peppers and peanut butter. I am not a big PB fan but this burger is unreal!
I am very camera shy and am not a fan of having my picture taken. Getting the YouTube channel started and taking videos was very difficult for me to find the confidence in, but diving in with 2 feet has helped. However, I know I still have a long way to go!
Thanks for reading and I hope you enjoyed getting to learn a bit more about me. 
Catch you next time,
Brandon Barker
---
2 comments